DARE TO COMPARE
Catalina vs. Salem/Wildwood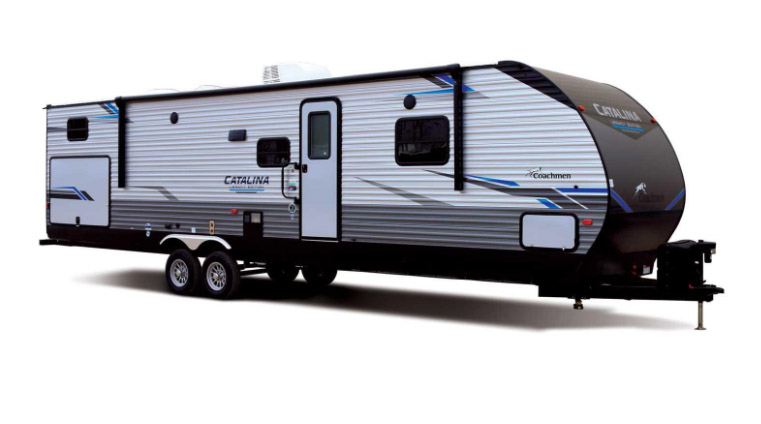 Alec's Truck, Trailer, & RV is proud to sell the legendary Coachmen Catalina – one of the most popular travel trailers on the market.

Today we challenge you to DARE TO COMPARE our Catalina travel trailers vs. the competition's Salem Cruise Lite and Wildwood X-Lite sister brands made by Forest River.

We've worked hard to earn our reputation as one of the best RV dealers in South Florida. So it may come as no surprise that people ask us questions all the time. Which is the better travel trailer, Catalina, Salem, or Wildwood? Does Coachmen make a good RV? Does Forest River make a good RV? Is Salem a good brand of camper? How about Wildwood; is Wildwood a good brand of camper? And is Catalina a good brand of camper?

For numerous reasons - including price and features - both of these product lines appeal to folks just getting into RVing. We're here to show those first-time shoppers what the experienced campers already know – specifically, why the Catalina travel trailer is far superior to the similarly-priced Salem and Wildwood.
FEATURE COMPARISON
Which is better, Catalina or Salem? Or, which is better, Catalina or Wildwood?

Here is a comparison chart showing what features you will find on the Coachmen Catalina that you may not find on the Salem or Wildwood travel trailers.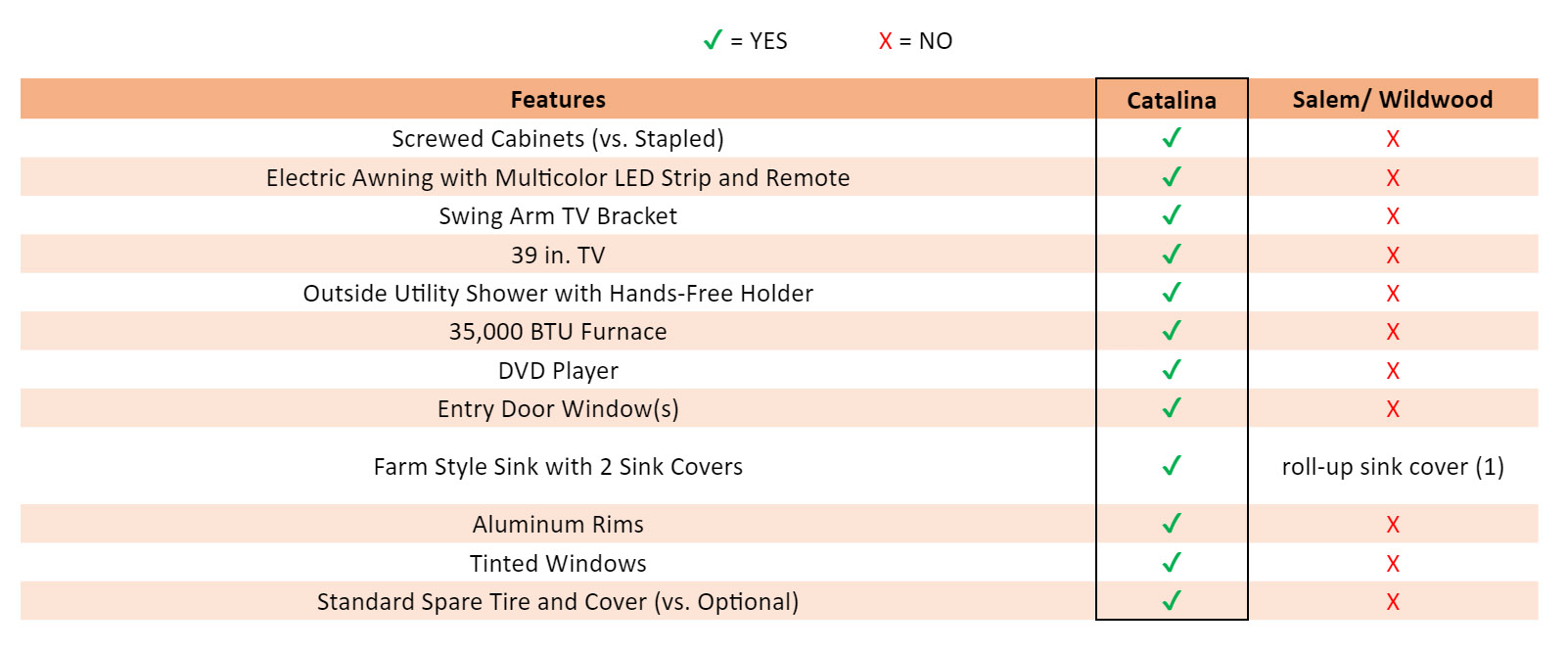 SHOPPING CHECKLIST – CATALINA vs. SALEM/WILDWOOD
Let's look at a list of features the Catalina has – and the Salem and Wildwood do not. If you're going to look at either of these RVs, ask the salesperson about these items.
Tinted WindowsM
We're in South Florida – you're gonna want 'em
Screwed Cabinet Construction (vs. Stapled)
Ask a cabinet maker which is more durable
Electric Awning with Multicolor LED Strip and Remote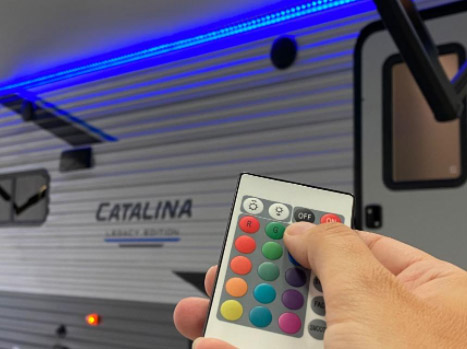 39 in. TV with Swing Arm TV Bracket
DVD Player
Standard Kitchen Sink Covers (2)
Catalina's covers are solid
Salem and Wildwood only come with a single roll-up sink cover
35,000 BTU Furnace
Outside Utility Shower with Hands-Free Holder
Great for washing out a cooler, or hosing sand off your feet
Entry Door Window(s)
U-Shaped Dinette
Seats more than the L-shaped dinette
81 in. Interior Height
Theirs is 80 in. – it matters if you're tall
Aluminum Fender Skirts (vs. No Fender Skirts)
Fender skirts reduce the amount of costly damage that can be done if a tire blows out
Standard Aluminum Rims (vs. Optional)
We're also a truck accessory store – ask us why this is better
Standard Spare Tire and Cover (vs. Option)
Should a spare tire be optional? Would you buy a car without one?
YOU CAN SEE THE DIFFERENCES
Next, let's compare just one Catalina floorplan to its Salem and Wildwood counterpart:
Here's the Catalina 263BHSCK: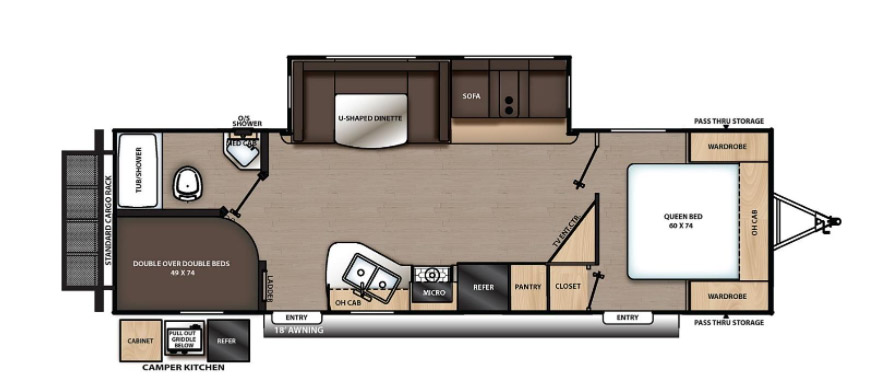 3D Tour
---
And here's the Salem/Wildwood 263BHXL: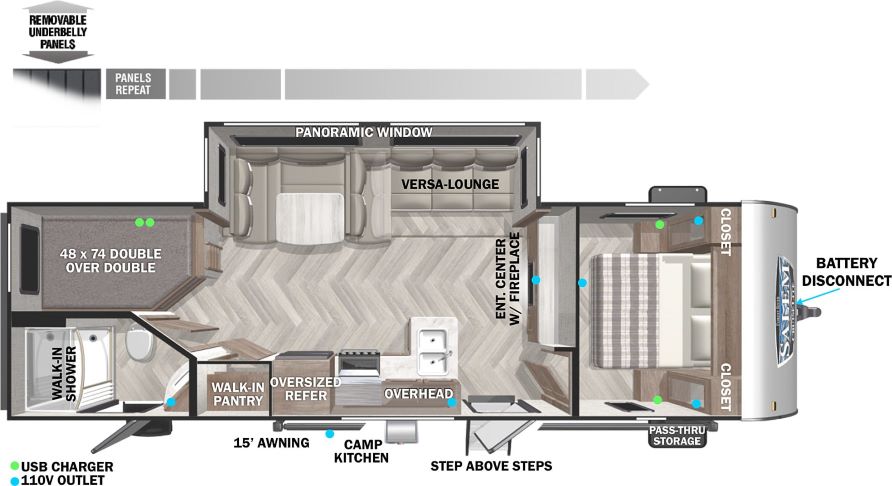 3D Tour
Open up both of these 3-D tours. You can SEE the differences.
THE BOTTOM LINE
In shopping from one dealer to the next, you may find that Coachmen RVs are not as cheap as Salem or Wildwood RVs.

Perhaps there's a good reason for that.

Because compared to Catalina, a lot of things are missing from the Salem/Wildwood – like a built-in 39" TV with swing arm bracket. Likewise, their brands lack some different amenities – such as an outside shower or a DVD player – features our Catalina has.

Bottom line, Catalina is the best travel trailer for the money. Don't make a buying mistake! DARE TO COMPARE!

And if you have any questions at all, contact us here at Alec's Truck, Trailer & RV and one of our friendly professionals will help you find the RV that suits your needs, at the price that fits your budget. We pride ourselves on being the place to find the best RVs for sale in South Florida. And we service what we sell.
View Inventory
Contact Us For More Information